In order to win souls effectively we propose the following strategies: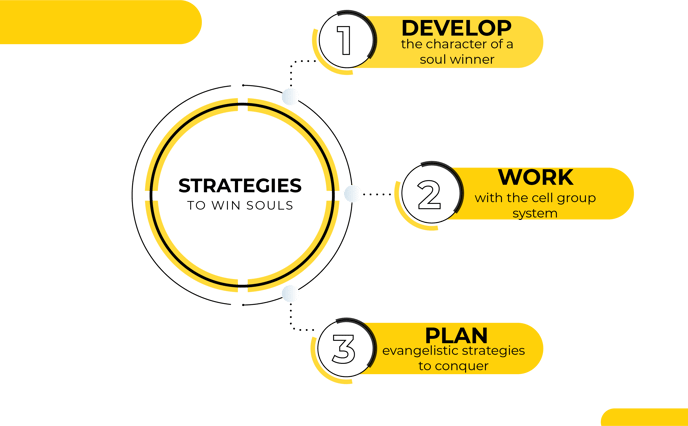 1. Develop the character of a soul winner: The character of a soul winner is fundamental to win others and affirm them in their walk with Christ. It is a character of compassion, testimony, faith, prayer, humility and generosity.
The fruit of the righteous is a tree of life, and the one who is wise saves lives.
Proverbs 11:30 NIV
2. Work with the cell group system: Cell groups are the backbone of the Vision and therefore the best evangelistic strategy. They allow homes to become places where the gospel is being shared and souls are won.
"They devoted themselves to the apostles' teaching and to fellowship, to the breaking of bread and to prayer."
Acts 2:42 NIV
3. Plan evangelistic strategies: There are different strategies to win souls. A macro cell group is an evangelistic meeting where you can invite new people and share the message of the gospel. At the same time, you can motivate the leaders to invite family and friends in order for many to receive salvation. It also allows us to meet new people and create the perfect environment to receive a great harvest for the Lord.
"How beautiful on the mountains are the feet of those who bring good news, who proclaim peace, who bring good tidings, who proclaim salvation, who say to Zion, "Your God reigns!"
Isaiah 52:7