There are some specific virtues that define a true soul winner, which are: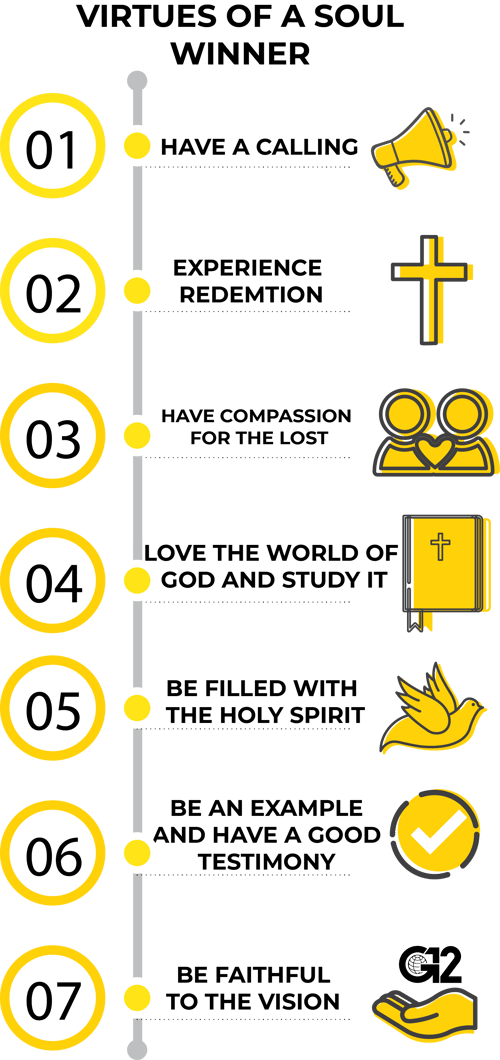 1. Have a calling: A soul winner understands that the greatest desire of God's heart is the salvation of many.
Then I heard the voice of the Lord saying, "Whom shall I send? And who will go for us?
Isaiah 6:8
2. Experience redemption: A soul winner is redeemed, he is free and that is why he can proclaim freedom to others. He has experienced the fullness of redemption and knows how this victorious promise is found in the blood of Jesus.
For you know that it was not with perishable things such as silver or gold that you were redeemed from the empty way of life handed down to you from your ancestors, 19 but with the precious blood of Christ, a lamb without blemish or defect.
1 Peter 1:18-19
3. Have compassion for the lost: A soul winner has the same heart as Jesus. He experiences a genuine compassion for the lost. This leads him to leave his comfort zone and preach the gospel.
When he saw the crowds, he had compassion on them, because they were harassed and helpless, like sheep without a shepherd.
Matthew 9:36
4. Love the Word of God and study it: A soul winner brings words of life to new believers and for this reason he prepares himself as a worker who uses the Word of Truth well. He understands that the Word of God is the only thing that unleashes power and miracles.
But whose delight is in the law of the Lord, and who meditates on his law day and night.
Psalm 1:2
5. Be filled with the Holy Spirit: A soul winner understands that being filled with the Holy Spirit comes as a fruit of our faith in Jesus and complete surrender to Him. We cannot start a ministry without the help of the Holy Spirit.
All of them were filled with the Holy Spirit and began to speak in other tongues[a] as the Spirit enabled them.
Acts 2:4
6. Be an example and have a good testimony: A soul winner is very careful with his example and testimony. He cannot be a person who teaches something with words, but demonstrating something totally different with his actions.
He must also have a good reputation with outsiders, so that he will not fall into disgrace and into the devil's trap.
1 Timothy 3:7
7. Be faithful to the Vision: A soul winner lives the Vision of Jesus and faithfully reproduces it. He knows that this characterizes a true soul winner.
So be careful to do what the Lord your God has commanded you; do not turn aside to the right or to the left. Walk in obedience to all that the Lord your God has commanded you, so that you may live and prosper and prolong your days in the land that you will possess.
Deuteronomy 5:32-33