The purpose of sending is to reach many people by exercising leadership that impacts, influences and reproduces itself in others.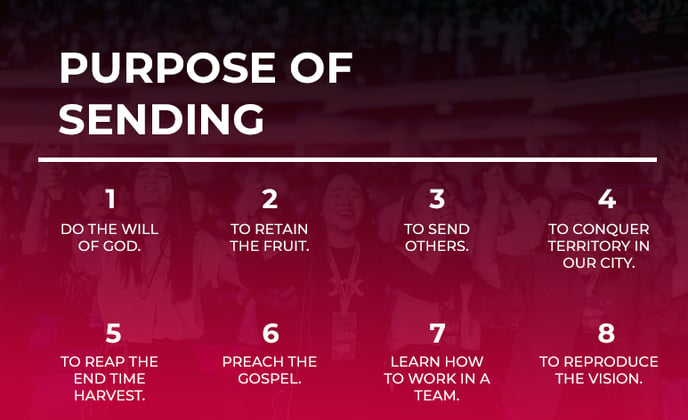 1. Do the will of God
For I have come down from heaven not to do my will but to do the will of him who sent me.
(John 6:38)
We send out trained disciples to do God's will in winning souls and making disciples. Jesus came to this world, sent by the Father, not to do His own will but the will of the Father. Each disciple who is being sent to do the Vision has the purpose of glorifying God in everything he does, without personal ambition or an agenda of his own.
2. To retain the fruit
And this is the will of him who sent me, that I shall lose none of all those he has given me, but raise them up at the last day.
(John 8:39)
We send disciples to do the Vision because it is the way to retain the fruit and care for the souls that are so valuable to Jesus. Each leader who is sent has the challenge of taking care of the fruit and multiplying it. We believe that this is the will of God with each person who visits our church: that no one is lost but that they keep living a life of genuine repentance.
3. To send others
As you sent me into the world, I have sent them into the world.
(John 17:18)
The great privilege of being sent is that it gives us the opportunity to send others as well. Jesus was sent by the Father and faithfully fulfilled His task. At the end of His ministry He had the authority to send His disciples to do the same thing that He did: love the lost, win them and make them disciples who in turn could do the same at some point. In this way the growth never stops. We should not be afraid to send disciples to do God's work because they will go in the power of the Holy Spirit and with God's guidance.
4. Conquer territory in our city
Then Joshua son of Nun, secretly sent two spies from Shittim. "Go, look over the land," he said, "especially Jericho." So they went and entered the house of a prostitute named Rahab and stayed there.
(Joshua 2:1)
Joshua sent two spies with the purpose of taking the promised land. Every time we send a disciple to open a cell group we are taking new territory. Opening cell groups is conquering territory and closing them is equivalent to giving ground to the enemy in a city. We send disciples to open a cell group because this action is equivalent to stepping on the enemy's ground and telling him that we have come to be light in a home and a neighborhood.
5. To reap the end time harvest
Ask the Lord of the harvest, therefore, to send out workers into his harvest field.
(Matthew 9:38)
We send disciples to do the Vision because there is a great harvest of souls and we need people who are willing to work in order to reap that harvest. Not sending workers is to ignore the desire of God's heart which is to reap the end-time harvest. We must be faithful and sensitive to God's heart and that is why we prepare disciples and send them out.
6. Preach the Gospel
He appointed twelve that they might be with him and that he might send them out to preach.
(Mark 3:14)
We ask disciples to open a cell group in order to preach the gospel. That was Jesus' primary purpose in setting up his team and sending them out. They met the needs of the people through the preaching of the Word of God. We must dedicate a lot of time in the preparation of the disciples we want to send so that they know how to prepare a preaching and also how to share it with excellence.
7. Learn how to work in a team
Calling the Twelve to him, he began to send them out two by two and gave them authority over impure spirits.
(Mark 6:7)
Jesus sent His disciples in teams of two. He could have sent them alone, but He preferred to teach them to work together in a team. When we send disciples we teach them that together better results can be achieved than if they do it alone.
8. Reproduce the Vision
Whoever speaks on their own does so to gain personal glory, but he who seeks the glory of the one who sent him is a man of truth; there is nothing false about him.
(John 7:18)
We send disciples so that the Vision does not stop. We try to run faithfully with the Vision without adding unnecessary things.